Hello Reader ,
This Topic Contains The Some Information About Crazy Kart ,
Hope It Helps All Newbies To This Game and To All !
So Lets Start !
Starting With
Q1. What is Crazy Kart ?
A1. Crazy Kart is One Of The World Most Known Online Racing Game's . This Game is a Online Multiplayer Racing Game We Can Enjoy Lots Of Stuff Like Playing With Friends , Hitting Them With Power-ups , Chatting , Enjoying Events and Lots More !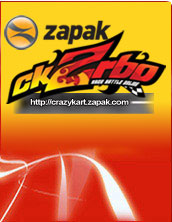 Q2. What are Power-ups ?
A2. Power-ups are Kinds of Weapons in This Game Therefore We Can Hit Power-ups To Players Ahead Of Us ..
Here are Kinds Of Power-ups and Their Functions -
Q3. What are Levels , How Can i Level-up ?
A3. Levels are Like Numbers , They Require a Specific Experience To Grow .. In-order To Level Up , We Have To Complete The Specific Experience Required For The Level To Grow.
Here are The Batches of Levels of Evo ( Evolution )

Q4. What is Task Lobby , How Can i Perform Tasks ?
A4. Task Lobby Is a Place Where We Can Perform Tasks .. It Contains Contents Like - Training , Crazy Field Race , Evolution Race..
Q5. What is Evolution , How Can i Evolve ?
A5. Evolution Challenge is a Task Which Can Be Performed By Players When They Become 41 Level ( Non Evo )
They Can Become a Evolved Player If They Complete The Task on Time , We Need an Evolution Card To Play Evolution Challenge..

We Get These Benefits For a Evo Player -
1. A permanent boost to your acceleration.

2. An exclusive new kart - Evo

3. A cool new background for your avatar.

4. 5% discount card for ALL cash point items in Shopping Mall.

Q5. What are Rooms ?
A5. Click the Create Room button in the Lobby to create your own room to race in, where you decide the kind of race, the map to race on, and the number of players allowed. You can even put a password on it to stop just anyone entering and only let your friends in.
Follow These Steps as In Picture -
1. Give your room a name.
2. You can choose to stake some gold points to increase your winnings at the end of the race.
3. Choose whether you want a normal map or a mirror version of that map.
4. There are a number of different tracks to race on which you can choose based on your level. Hurry up and level up to get access to all the Maps!
5. Choose between a pure speed race and one with power ups.
6. Do you want to play with teams or in a free-for-all race?
7. You can put a password on your room so only your friends who know it can enter.
8. You can also decide how many people you want to race with.
And to finish up, click OK to create the room or Cancel if you change your mind. You can change the room settings any time after creating it by clicking the Room Setup button in the game-room.
Remember: If you lose the next race you'll lose ownership of the room to the person who came first. To prevent this, buy a Room Owner Card from the Shopping Mall and keep it handy in your inventory!
The Room Owner also has the ability to kick players out from their room. Just click on the player you want removed and choose the Kick Player option. A vote will start in the room (we live in a democracy after all!) and if 50% agree, the player will be gone from the room!
Is This Info Usefull? : 1: : 4: : 1: : 4: : 4: